Mother's day is right around the corner. What better way to treat Mom than to take her out for a forgettable experience she'll never forget. Instead of buying another bouquet of flowers, take her out to a Jazz Concert, a wine & culinary tasting pass, an artisan market or a special Mother's Day Brunch at one of OpenTable's Top Brunch Restaurants.
Live Jazz Concerts at Stratus Vineyards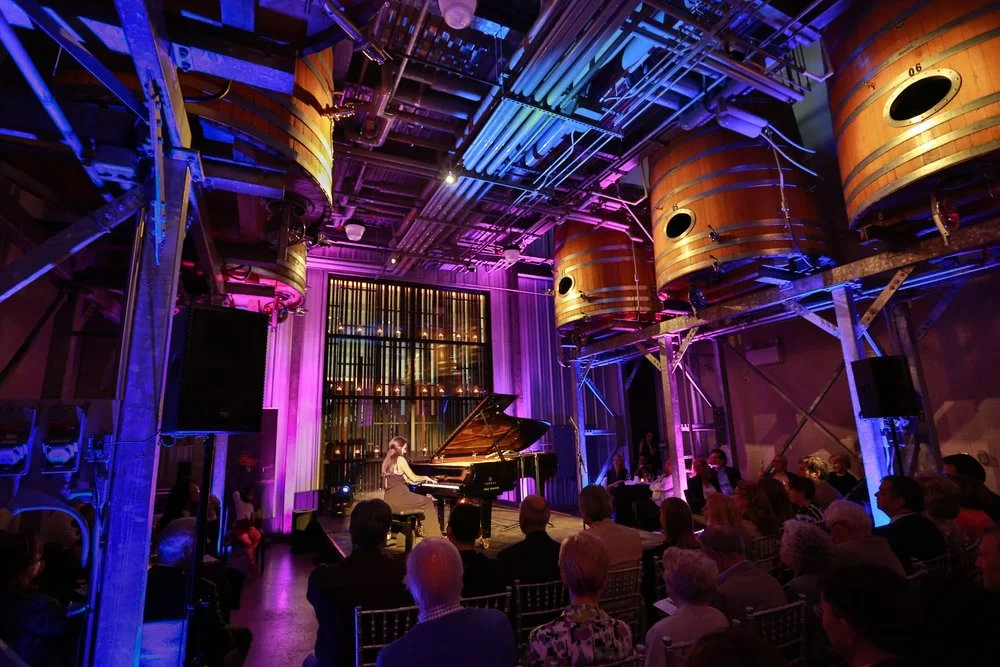 The world's leading Canadian and international musicians play intimate concerts inside the immaculate Stratus Vineyard Barrel Room. A wine & music pairing that Mom will never forget.
Alfredo Rodríguez & Pedrito Martinez
MAY 11, 2019 – 7:30PM Grammy®-nominated artists alfredo rodríguez and pedrito martinez first worked together on alfredo's 2012 release invasion parade. Since that initial recording session they have had the rare occasion to perform together as a duo, leaving audiences completely mesmerized by their fearless and virtuosic playing.
Purchase Tickets
James Parker & The New Gen
MAY 12, 2019 – 2PM
James Parker, piano
Brian Mangrum, horn
Boson Mo, violin
The new gen project pairs two of Canada's rising classical musicians – Brian Mangrum (horn) and boson mo (violin) – with veteran artist James Parker in a concert of solo and chamber works.
Purchase Tickets
Sip & Sizzle
Treat mom to a Mother's Day Weekend filled with wine & food pairings. Over 20 wineries in Niagara-on-the-Lake each offer a unique grilled food and VQA wine pairing. It's fun, relaxing, and a great way to discover the Wines of Niagara-on-the-Lake. And a great way to forget the winter we just endured.
Pairings include:
KONZELMANN ESTATE WINERY
2017 30th Anniversary Small Batch Riesling (W, O) paired with beef tenderloin tips marinated in a sweet and savoury traditional Korean sauce featuring tamari, sesame oil, fresh ginger, garlic and honey. Grilled to perfection and sprinkled with sesame seeds and fresh chives.
PELLER ESTATES WINERY AND RESTAURANT
2016 Private Reserve Cabernet Sauvignon (W, O) paired with Chef Parsons' BBQ Grain Bowl including grilled caulifl ower, charred brocco
RAVINE VINEYARD ESTATE WINERY
2017 Sand & Gravel Chardonnay (W, O) paired with crispy pork belly / honey and lime glaze / k2 milling black bean salad / mustard vinaigrette and herbs
View the full list of participating Wineries
Purchase Tickets to Sip & Sizzle
Handmade Market at 13th Street Winery
The HandMade Market features the work of over 150 artisans from across Ontario, Québec and Canada's east coast including Jewellery, Pottery, Glass, Hand-Sewn Bags, Fashion Accessories, Preserves, Bath + Body Products, Original Fine Art, Designer Clothing, Kids Clothes, Knits, Home Decor, Luxury Hand-Spun Fibres, Artisan Wood Products, Leather, Handbound Books and more.
And this isn't a boring stroll around a mall either. Taking place outdoors at the immaculate 13th Street Winery in St.Catharines. Come for the shopping, stay for wine tasting and live music. Taking place May 10th & 11th.
View more information & vendors at Handmade Market
Mother's Day Brunch at Trius Winery Restaurant
Trius Winery Restaurant has won multiple OpenTable dining awards in 2019, including being name a
Top 100 Best Brunch Restaurant in Canada
.
Treat your Mom to a sparkling brunch at Trius Winery Restaurant this Mother's Day! You'll enjoy a glass of sparkling wine and a seasonal 3-course brunch prepared by Chef Frank Dodd and his culinary team.
$59 per guest, exclusive of taxes and gratuities.
$54 per guest for Wine Club members (and up to 5 guests)
Reserve your table at Trius Winery Restaurant