From Soil to Shelf, Six Generations Strong: Paul Speck and Henry of Pelham
On a visit to the Short Hills Bench sub-appellation within the Niagara Escarpment, you'll find a family-run winery with roots as deep as their vines and history as rich as their award-winning wines. Known to have grown some of the first grapes planted in Canada, the Speck family of Henry of Pelham has lived on their 300-acre vineyard in St. Catharines Ontario for generations —
six generations to be exact — and have plenty of stories to share of times past and present.
Today Paul Speck Jr. and his brothers continue their generations strong history of winemaking as owners of Henry of Pelham. It's no surprise then, that winery President Paul insists he didn't choose life in Niagara, but rather, it chose him. Unlike most teens, Paul and his two younger brothers Matthew and Daniel, spent their spare time planting grapes on the family vineyard. Back then there were only eight wineries in the Niagara region and a whole lot of naysayers.
Little did they know, digging into their roots would plant the seeds of their future. The brothers spent backbreaking summers and weekends in the hot, dry sun planting grapes. Eventually, they moved to the Twenty Valley to help run the business full-time, and the rest is history.
Reflecting on his humble teen years spent knee-deep in soil, Paul jokes that he wished he and his brothers planted hops to make beer. As young men, they knew very little about winemaking but were expert beer drinkers!
Today, Henry of Pelham has a team of 70 employees, produces an impressive 750,000 cases of VQA wine per year, and ships the taste of the Twenty Valley landscape to 18 countries around the world. Even with their various roles within the winery, all three brothers still are very much a part of the winemaking process helping to determine each variety's final composition with their winemakers. "We started Henry of Pelham before VQA, the wine route and any worldly acclaim for the wines.
"We have a great sense of being here from the beginning which guides us through the amazing success of Niagara wines that we know today"
Their wine offerings reflect the classic Niagara style of winemaking that they were very much a part of creating, with a nod to old-world traditions. All of the grapes at Henry of Pelham are grown in the Short Hills Bench sub-appellation, where the sunny days and cool nights are ideal for cultivating the most perfect grapes derived from complex soils.
"The whites are crisp and aromatic while the reds are fine and bright, leaning towards red berry flavours," shares Paul.
Although not necessarily deliberate, Paul explains that it was their Baco Noir that put them on the map, a grape that Paul and his brothers know all too well, having spent those long summer days planting them.
"Baco is a medium to full-bodied red wine that is rich and full of flavour. It's also very consistent and hearty in the vineyard so it produces a red wine year in and year out that many people thought was not possible for the region," says Paul. Henry of Pelham played a big role in having it become Niagara and Canada's signature red grape.
Try a glass (or bottle) of Baco Noir with strawberries rolled in ground pepper, Henry of Pelham's rendition of a tequila shot, a combination the brothers swear by. Don't believe them? Try it for yourself.
Cuveé Catharine Brut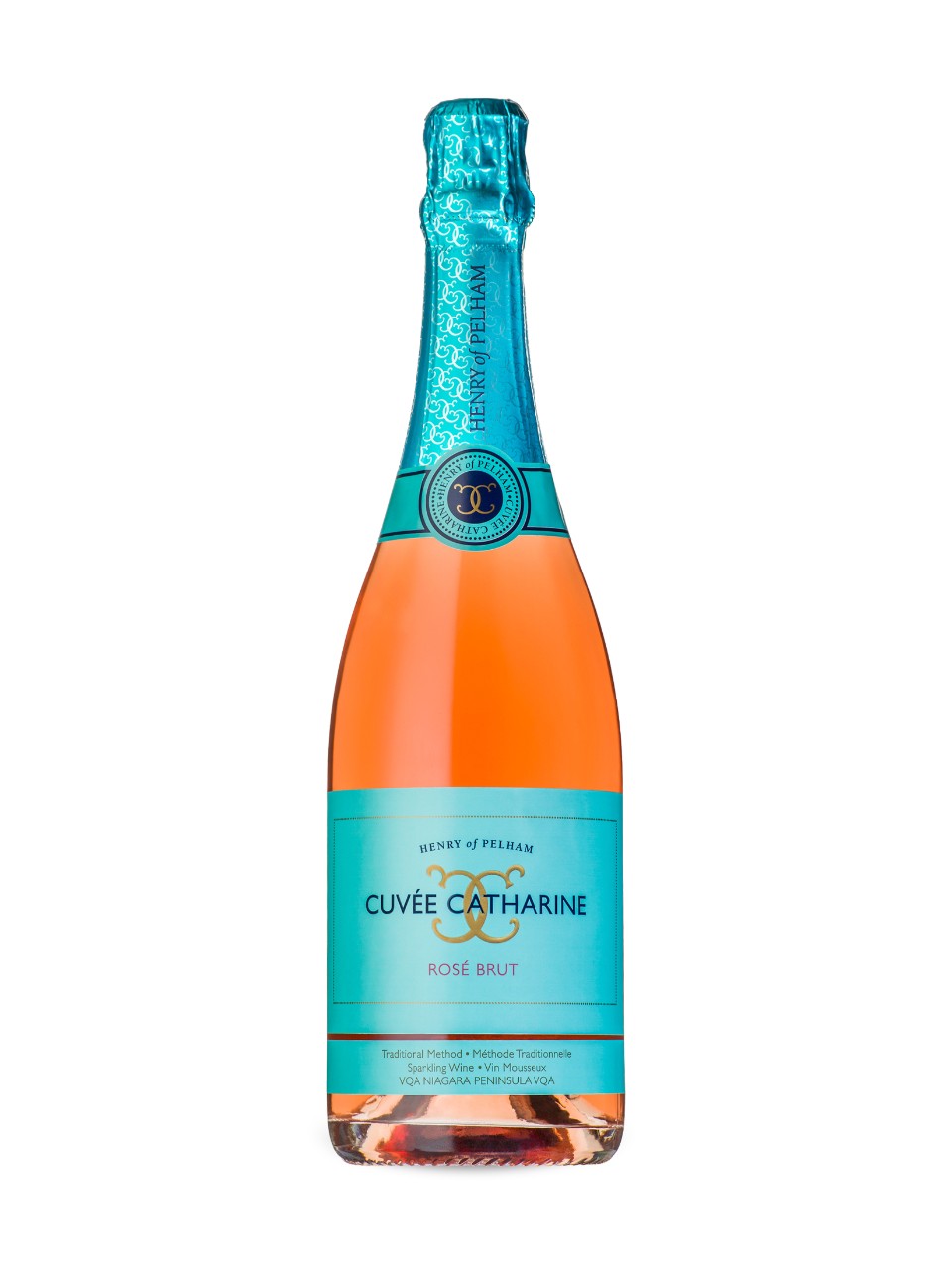 96 Score, Gold Medal
Decanter World Wine Awards
Another signature offering at Henry of Pelham is their Cuveé Catharine Brut, lovingly named after Henry's wife and family matriarch, Catharine Smith. This bottle was certainly not created by accident, having earned a score of 96 and a gold medal at the Decanter World Wine Awards this summer.
"The Cuveé Catharine is a traditional method, Champagne-style sparkling wine," says Paul. "Made from Pinot Noir and Chardonnay grapes, it has led the charge in Niagara of what is now a well-established wine category and one we are becoming famous for around the world."
Even with the acclaim Henry of Pelham has received for their wine selections both regionally and worldwide, Paul humbly notes what's really at the heart of their success and everything that they do– "Every bottle we make captures this unique connection to our corner of the Twenty Valley, but really, the winery is about family," says Paul. "We're trying to preserve our long family history and its relationship with the land all the while trying to make new history."
When asked if his children share the same passion for the family business, Paul laughs while explaining, "My brothers' children and my own are all at various levels of school, but they have all worked or are working at the winery in various ways or some capacity. I think it's a bit too early to tell if they'll make a career out of winemaking, but it's a big commitment. If they choose to come into the business, they need to be all in!"
To visit Henry of Pelham is to truly go back in time. Perhaps that's the charm of it all, to go back in time is to go back to simpler times, when the simple things in life meant the most.
Guests taking a trip to Henry of Pelham get the best of old-world charm and new world winemaking. Literally step into history with original buildings from their United Empire Loyalist forefathers, including their tasting room and wine store in Henry's carriage house.
For a truly unique experience, enjoy an intimate evening and candlelit tasting experience in the underground working barrel cellar—Canada's largest. While you sip on Henry's finest Speck family Reserve vintages, listen to the rich stories of the Speck history.
How fitting then, that the Speck brothers like to say the best thing you can find in a vineyard is a footprint. And the only way to add your own is by coming out to visit Henry of Pelham yourself to leave your mark on history.
• • • • •
1469 Pelham Rd, St. Catharines, ON L2R 6P7
(905) 684-8423
CONTACT
Henry of Pelham Estate Winery
Phone: 905-684-8423
Website: HenryofPelham.com
1469 Pelham Rd, St. Catharines, ON L2R 6P7