Are you thinking about planning a vacation for wine-lovers? How about a trip to the largest East Coast Wine Region in North America – and it's right in your backyard! In the Niagara Region wine country, you'll be able to explore thousands of acres of picturesque vineyards and rolling hills.
It is the perfect place for an escape to the city, just like Sonoma or Napa Valley near San Francisco. Within the region, you'll get to discover the vineyards on the Niagara Escarpment of Twenty Valley and the Flatlands of Niagara-on-the-Lake on the shores of Lake Ontario.
Niagara-on-the-Lake is an incredible destination for a getaway. Here you'll quickly fall in love with the old-town charm and the plethora of 50+ wineries that are within one area.
The welcoming setting offers something for everyone. Wine enthusiasts can work on refining their tasting skills through blind tastings.
But, if you don't know the difference between a pinot blanc and pinot noir, you'll still have a fantastic time. It is an excellent choice for a weekend with friends or for celebrating a birthday or bachelor(ette) party.
Between all the diverse wineries, there are so many unique experiences to enjoy. If you are looking to escape for a weekend, here are some of my top picks:
Trius Winery
For the ultimate time with your friends, there is no better spot than Trius Winery. It is a super Instagrammable winery, where you can sip a chilled glass (or two) of rosé and take cute selfies.
The tour you'll want to sign up for is The Trius Tour, which is unlike anything offered at the other wineries. Here it mixes learning about wine with jaw-dropping pink photo backdrops.
It begins with you going to a dreamy wall of pink roses where you can see the vineyards around you. It was absolutely breathtaking to see all the flowers covering the wall.
Every spot on this tour more dazzling then the next, so make sure to keep your camera ready.
You'll visit Canada's largest underground sparkling cellar, a rosé room and much more. All the locations feel carefully curated to keep learning about wine entertaining.
For example, you can play with chic perfume bottles that each spray a different wine note. Then later you'll get to sip bubbly topped with cotton candy and swing on a cork swing.
One of my favourite spots was the jaw-dropping hidden infinity room at the end. Stepping into the secret space, I felt like I was in one of Yayoi Kusama's world-famous artworks.
Learn More: Trius Winery Tour
Wayne Gretzky Estates
After visiting Trius, you'll want to head over to Wayne Gretzky Estates. They are conveniently located right next to each other.
As someone who isn't a big fan of hockey, I wasn't sure if Wayne Gretzky Estates, was the experience for me. Thankfully I decided to give it a try. As otherwise, I would have missed out on my favourite winery tour at Niagara-on-the-Lake.
The estate is welcoming to everyone, even if you know nothing about wine. Here it feels like you are a friend's house in the best possible way.
There aren't any pompous tours. Instead, it is like a knowledgable friend is sharing their insight in a laid back manner.
 

 

View this post on Instagram

 
This helps to create a very comfortable environment that you won't want to leave. I know I'm already eager to return!
On my visit, I did the sensory lab, which I can't praise enough. There were so many enjoyable moments, like trying wine blindfolded. Another highlight was discovering how wine glasses impact how we taste wine. The tour also helped to foster a new love of whiskey.
What impressed me was not only how interactive the tour was, but how much I learned. In the end, I walked away with a massive smile on my face and a new desire to try every other experience they offer.
Another factor that makes Wayne Gretzky Estates so unique is also a distiller and brewer. As such, you can also take classes on cocktails or take a tour that is about wine, beer and whiskey.
 

 

View this post on Instagram

 
I could have easily spent the entire day here because there is so much to do. In the winter you can skate on the ice rink. Then when it is warmer, you can play games of ping pong or bocce ball next to the beer garden.
The vast diversity of options is perfect for a group of friends, as there is something for everyone.
Learn More: Wayne Gretzky Estates Tours
Peller Estate Winery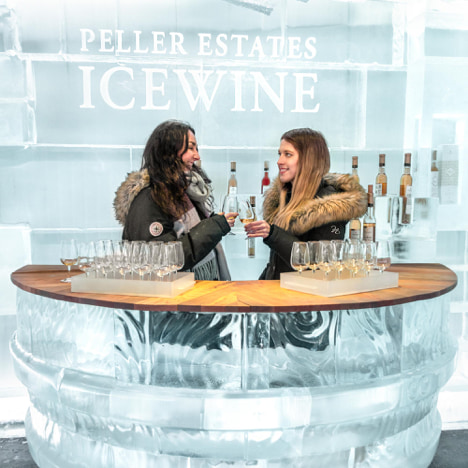 For the ultimate Canadian wine experience, you need to visit Peller Estate. The must-see attraction is the 10Below Icewine Lounge on the Greatest Winery Tour.
Before my visit, I must admit I was someone who wasn't fond of ice wine as I found it too sweet. But lured by the promise of visiting an insane ice bar, I decided to give the 'liquid gold' another chance.
After bundling up in a warm parka, I headed into a stunning igloo lounge area. I couldn't believe my eyes when I entered. Everything from the walls, tables, and seats are all made out of frozen water.
The tour guide told me that it took a staggering 13,607 kilos of ice to create 10Below.
Despite being Canadian, I despise being cold, and even I was comfortable inside. So don't let the -10 C temperature within the bar, hold you back from visiting. When wearing the complimentary parkas, you'll remain toasty.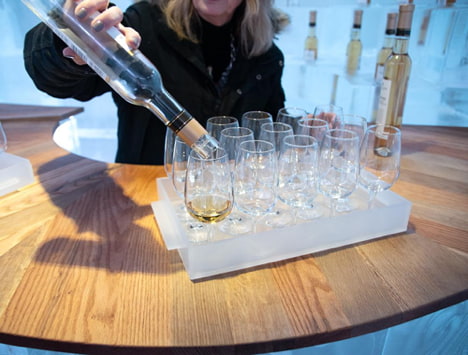 For me, my visit was an eye-opening experience. It made me realize I do, indeed, love good ice wine.
While in the past, I only found ice wine had an overpowering sugar that seemed to coat my mouth. Here I got to sample delicious varieties that had notes of honey and oranges or even strawberry.
I recommend this winery for anyone looking to try something fun with friends. It is hard to beat a lazy afternoon sipping wine while lounging at an ice bar.
Learn More: Peller Estates Wine Tour
Give Niagara chance – you won't be disappointed you did.
Written by: Stephanie White

Visit: Stephanie White Travels