Get ready to visit Canada's 'must-do' signature attraction – Hornblower Niagara Cruises – and take home the ultimate souvenir: a memory.
Opens for the 2020 season in April!
Make more memories at Niagara Falls, Canada's 'must-do' signature attraction – Hornblower Niagara Cruises. The Voyage to the Falls Boat Tour brings guests on the journey of a lifetime. Enjoy stunning views of the Niagara Gorge, American, and Bridal Veil Falls, and come face-to-face with the famous Canadian Horseshoe Falls. Feel the thundering roar, awesome power, and amazing mist that come along with these natural wonders or, ride after sunset for a light-mist experience with the illumination of the Falls.
Book in advance and skip the ticket booth with Flexible Date Mobile Tickets to plan your visit around the weather and other travel plans.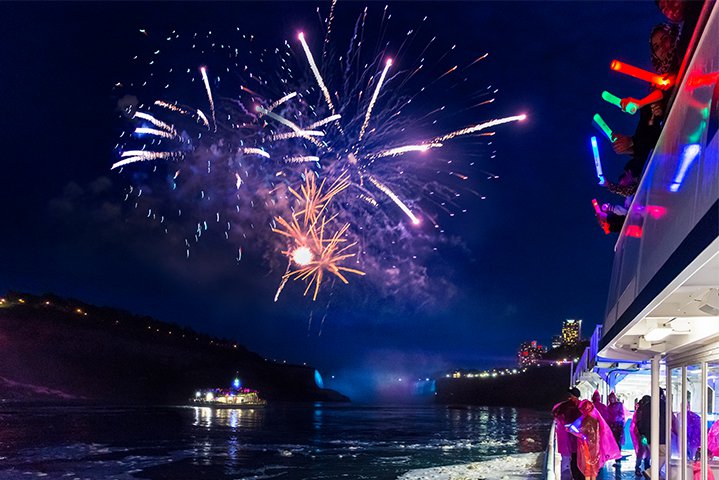 For a later-at-night moment, you'll only find here, there's nothing quite like a cruise and the sight of exploding fireworks over Niagara Falls to make your visit memorable. Set sail on a Falls Fireworks Cruise for a 40-minute nighttime experience of the Niagara Gorge. With up-close views of the American Falls, Canadian Horseshoe Falls, and the ultimate view of the Niagara Falls Fireworks display!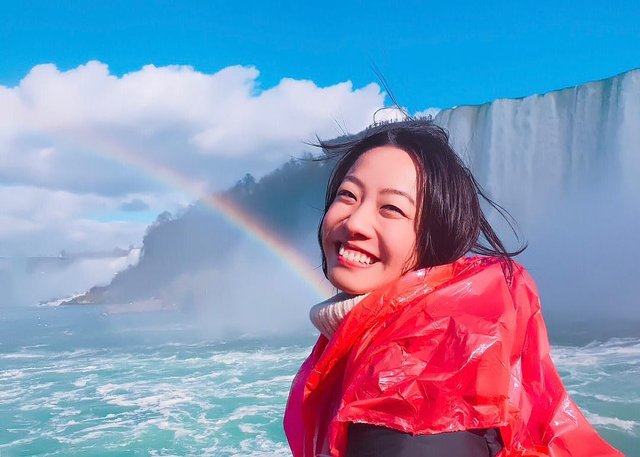 See the sparks fly with the falls fireworks display. Hornblower Niagara Cruises is a proud supporter of Niagara Falls Fireworks. Ride on the Hornblower Niagara Funicular and enjoy panoramic views of the Falls and Niagara Gorge onboard the 50-passenger incline railway cars. Skip the ticket booth with the official Niagara Cruises app, your mobile e-ticket allows you to book online, manage your booking, and enjoy audio commentary available in several languages. Book online at www.niagaracruises.com
MIST GEAR
Before boarding visitors can browse the Roar Store retail shop for all their last minute tour essentials. Here they'll find a great line of Comfort and Convenience items designed specifically for their boat tour, and Memory Souvenirs. The Roar Store is conveniently located in the Lower Landing immediately prior to boarding.
BOARDING
All boarding is located at the Hornblower Lower Landing in the Great Gorge. Entrances are located at the Hornblower Ticket Plaza at 5920 River Road (Niagara Parkway) and the Hornblower Niagara Funicular Booth at the foot of Clifton Hill.
Parking
There is plenty of parking nearby. All major public parking, hotels and attractions are conveniently connected to Hornblower Plaza by the WEGO Transit system. Visit Hornblower's WEGO PAGE for details. Visitors should allow time to park and walk to Hornblower Plaza.
THE BOATS
Hornblower Niagara Cruises Boats feature on-board amenities including tiered decks for 360 degree unobstructed viewing, retractable glass nano-walls for dry viewing areas, on-board passenger washrooms and for evening and nighttime cruises an on-board licensed bar. The 145-passenger "Niagara Guardian" boat is powered by twin 350-horsepower jet-drive engines and is available for private charters, functions and events. All boats are ODA compliant for accessibility.
We went to go to take the boat tour. Cool add on but expensive. Long wait for 15 minutes ride. We had to wait 4 hours under the sun to board the D'am ship. When they say <
The guided tour was spectacular! We were given rain/mist ponchos that kept us nicely dry as we ventured on the outer decks. It was lovely to find out interesting aspects of the American Falls as well...
This trip was a childhood dream... glad that it came true. Gets very exciting as you head near the falls... again.. this is another trip where pictures don't do justice... you have to experience it...