David Johnson, our winemaker, has added 'shepherd' to his job description. Each year, sheep are brought into the Featherstone Winery Estates & Vineyard for a brief period to do leaf removal on the vines and provide weed control. Sip on our famous Featherstone Estate Black Sheep Riesling and enjoy a vineyard tour that is unique in Canada.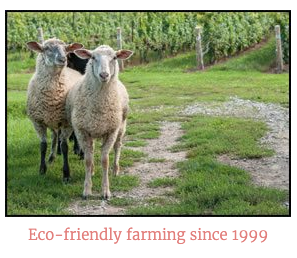 Sheep in the Vineyard Details
Tour begins at 3:30pm
Tour lasts about 50 minutes.
Two wines will be tasted.
Please wear appropriate footwear to meet the sheep (high heels will be regretted).
$15.00+HST per person, to a maximum 20 people per session.
We recommend calling ahead with a credit card number to reserve: 905-562-1949